The man in charge of the Oscars awards envelopes has been blamed for the gaffe that saw La La Land named best picture.
PriceWaterhouseCoopers accountant Brian Cullinan was supposed to hand the best picture envelope to presenters Warren Beatty and Faye Dunaway on Sunday.
In a statement, PwC said he "mistakenly handed [them] the back-up envelope for actress in a leading role instead."
It's also emerged that Cullinan tweeted a picture of Emma Stone backstage just minutes before the mix-up took place.
The tweet has since been deleted, though it survives on various websites and on a cached Google page.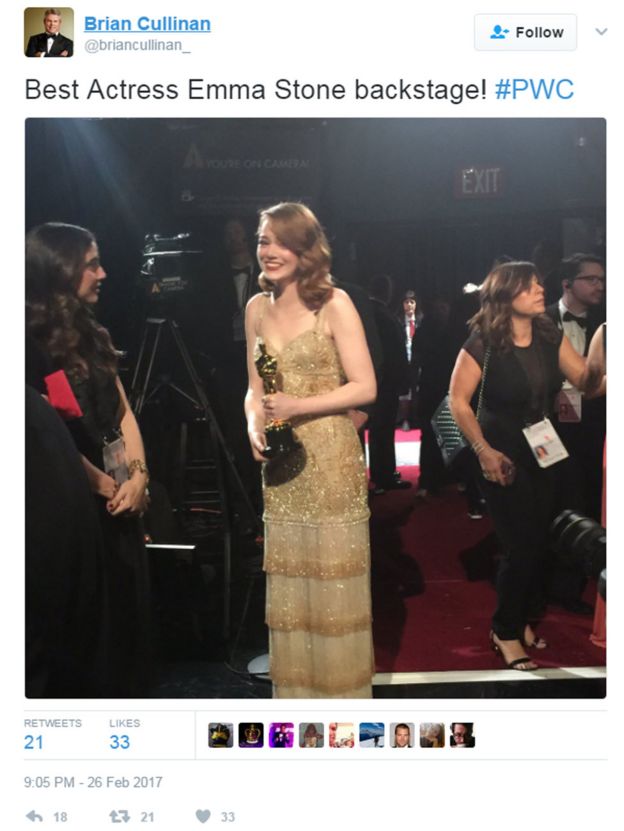 Cullinan had a complete set of envelopes on one side of the stage, while Martha Ruiz, another PwC accountant, had a duplicate set on the other.
This explains why both best actress winner Emma Stone and Beatty ended up in possession of an envelope related to the best actress award.
Beatty was evidently confused by the contents of the envelope, passing the card onto his former Bonnie and Clyde co-star.
Seeing the words "La La Land" beneath Emma Stone's name, Dunaway declared her musical romance the winner of the best picture award.
Only after that film's producers had begun their acceptance speeches was it revealed that Moonlight had in fact won the award.
"Once the error occurred, protocols for correcting it were not followed through quickly enough by Mr Cullinan or his partner," said the accountancy firm.
One of Cullinan's colleagues told Variety that the accountant "feels very, very terrible" and "is very upset about this mistake".
On the other hand,  La La Land actor Ryan Gosling's reaction to what is being termed as the biggest blunder in Oscars history, was priceless.
The best picture Oscar blunder prompted snickering from Ryan Gosling and a cascade of politically tinged jokes on Twitter, with some even declaring Hillary Clinton the winner.
The sarcasm started after La La Land was wrongly announced as the best picture winner instead of Moonlight, drawing a giggle from Gosling, who was on stage with the La La Land cast when the real winner was announced.